If you would like to download prayerbooks so you can participate in any of our services, the Rabbinical Assembly is generously providing the PDF's of them. We ask that you please honor their requests of not distributing them, that you only print up to three copies for personal use, and that they are only used during this unique time.
Click here to go to the download page.
The books you will want to get are:
Siddur Sim Shalom Shacharit Weekdays
Siddur Lev Shalom Shabbat Morning
Supporting each other, supporting our community.
Now it is more important than ever that we stay connected. Members of the kehillah are making calls, checking in on each other, offering to help as needed. Please don't hesitate to reach out. Rabbi Rose is available for pastoral care and conversations: rabbirose@shaarietorah.org or contact Jemi, our Executive Director at, executivedirector@shaarietorah.org.
We deeply appreciate any support you can give in this time. To donate to our operations, please click here. To make a tribute donation, in honor or in memory of a loved one, click here. As always we are grateful you are part of our community and are working to do our best to serve you in this new and unknown time. We hope we will be together again soon.
Archived Classes & Services
Check out our youtube channel for all archived virtual classes and events. And don't forget to subscribe to stay up to date on all of our virtual classes and events. 
Morning Minyan: Sunday, Monday, Thursdays @ 8:00 am
Click here to join our Zoom
Meeting ID: 892 3105 7612 | Password: 940346
Saturday Morning & Holiday Services: Saturdays @ 9:30 am
Stream Shabbat & Holiday services through our streaming channel, here. To access Shabbat Morning & Holiday services through zoom, click here. After registering to join our zoom room, you will receive an email containing information about joining the service on Saturdays (the link you receive will be the same zoom link each week). We go live with services every Saturday and holidays on our facebook page as well.
A Lunchtime Taste of Torah
Rabbi Rose will lead a discussion about the Weekly Torah Portion. Get a bit of inspiration and deepen your understanding of the Torah and its commentaries.
Restoration at Sinai: Tikkun Leil Shavuot
Join us for our Tikkun Leil Shavuot, the practice of learning through the night to remain spiritually awake for the receiving of the Torah.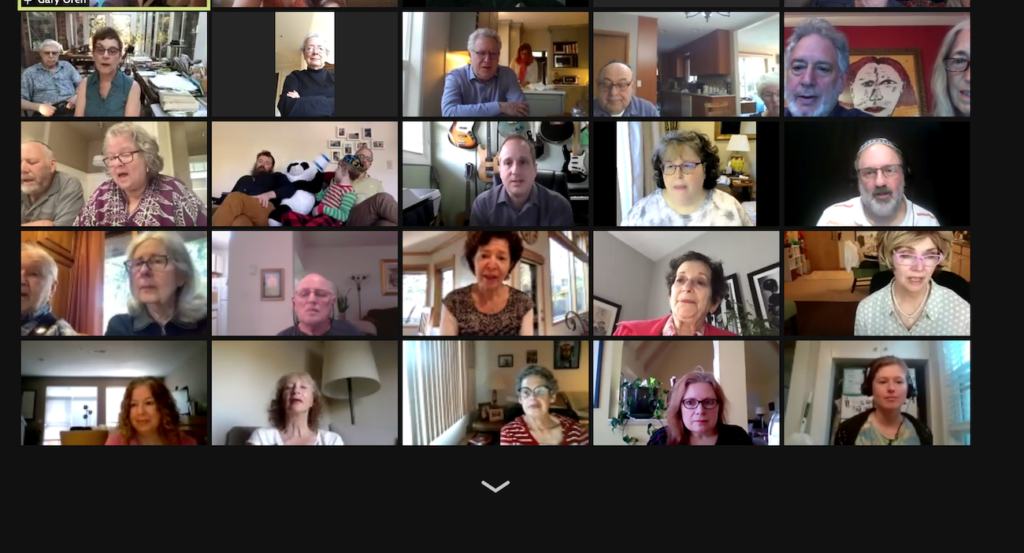 Sunday, May 9 at 10:00 am 
Mother's Day Shavuot Baking with Hadar Kedem
Local Portland baker, Hadar Kedem (age 9) returns with her live baking class in preparation for Shavuot. Hadar will be teaching us how to make her favorite lemon cheesecake. 
Every other Wednesday at 7:00 pm
Yarn Crafting with Anne & Amber
Calling all knitters, crocheters, crafters and curious ones alike! We've found two incredible friends to host a zoom yarn circle every other Wednesday. Grab your needles, hooks, whatever your working on, or start something new. 
Every 1st Thursday at 7pm 
Young Adult Happy Hour
Remember going to happy hour before the pandemic? Join other Shaarie Torah young adults for the virtual version. Whip up a snack and grab your favorite beverage of choice, and come hang out with us on Zoom.
Young Adult Shabbat Dinner
Join other Shaarie Torah young adults for a monthly Shabbat dinner on zoom (for fall and winter). We will celebrate Shabbat and the end of the week. After we bring in Shabbat we can eat together over zoom.
Our office is currently closed to visitors. Questions? Give us a call or send us an email. We currently have limited office hours but leave us a message and we'll get back to you as soon as we can.
Subscribe to our Email newsletter