Daniel Petcher, President
A bright and happy guy who likes dark and bitter chocolate! Daniel is a computer hobbyist as well as a professional Administrator. He is particularly interested in scripting to watch machines handle the more mundane parts of his job. Daniel just started a new job, so he gets to automate new things that he hasn't worked-on before.
Outside of work, Daniel and his wife and two ridiculously-cute cats, recently left the suburbs to live in near the shul. They love to travel, but that's been very limited this year. Daniel's time outside of work is mostly consumed by Congregation Shaarie Torah. He's a regular at morning Minyan, meetings of the Board of Directors, and a few committees.
I love to bicycle and I hope to commute by bike again, if I ever return to working in an office.
Raphi Rosenblatt, Vice President
Raphael (Raphi) Rosenblatt is a native of Gainesville, Florida. Raphi has always been deeply involved with the Conservative Movement and Jewish leadership. Raphi grew up attending Camp Ramah (first Palmer, and then Darom) and was the first camper at Ramah Darom ever to be hired as a Rosh Eidah (section leader). Throughout high school, Raphi was active in USY, including holding the position of Regional President for HaNegev, the southeaster region of USY. While studying at Brandeis University, Raphi led both the Conservative minyan on campus as well as the Conservative Jewish student organization.
Raphi currently works as a Senior Director for Grads of Life, a national nonprofit that helps companies around the country implement more inclusive hiring programs. Raphi's passion for social justice was cemented when he joined Teach For America out of college. He spent 3 years teaching high school math in the Bronx, during which time he also earned a Masters in Education from Pace University. Raphi attended Brandeis as a Justice Brandeis Scholar, graduating Phi Beta Kappa with degrees in Economics, Politics, and French. He also holds a Master in Public Policy from the Harvard Kennedy School.
Raphi and his husband, David Morgenstern, were immediately attracted to Congregation Shaarei Torah because of its traditional practices, warm environment, and engaged members. Raphi currently serves on the Ritual Committee at CST, as well as helping to co-lead young adult programming.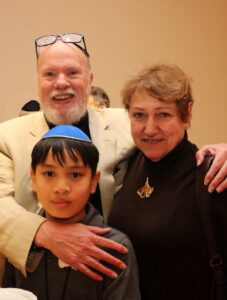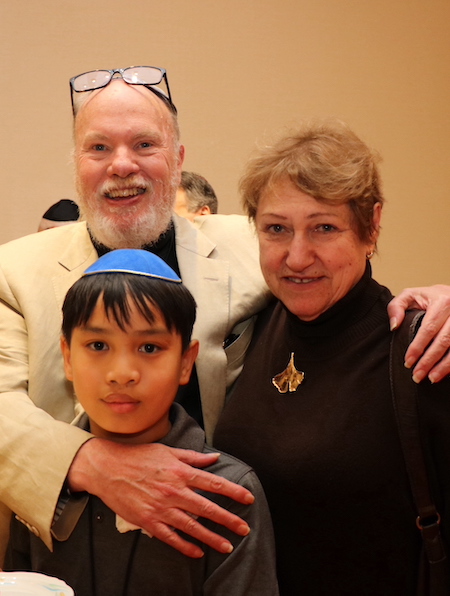 Peter Lyman, Treasurer/Past President
Peter has dedicated over two decades serving in various roles at CST. Filling the posts of Treasurer and member of the Executive Board, as well as positions on the finance and cemetery committees. Peter Lyman was awarded the Harry R. Nemer Award in 2017. Peter has worked in municipal government on both coasts, specializing in water systems and water flow, and taught economics at Cornell. In 1998, after several years away, they moved back to Portland and to the warm, familial embrace of Shaarie Torah. Peter and Anna are parents to three children: Tamar, who lives in Portland with her daughter, Libi; Laura, who is working on a PhD in mathematics at Stanford; and Jacob, whom they adopted from Vietnam. Of their early years at Shaarie Torah, Peter fondly recalls his special bond with the late Rabbi Yonah Geller, whose pithy admonitions were delivered in a deep, gravelly voice. Peter has made many contributions to Shaarie Torah, such as the gates through which all of us pass on our way into the synagogue. Made of imported Jerusalem stone and wrought iron, they feature a striking replica of the Ten Commandments at the pinnacle, so very apt since the words Shaarie Torah mean "Gates to the Torah." Peter and Anna donated the gates to honor the memory of Anna's mother, Lyuba.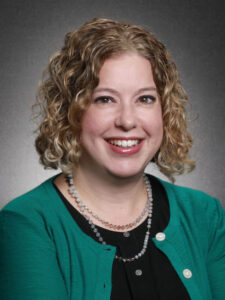 Melissa has a long family history at Shaarie Torah and has served on numerous committees as well as Past President of Sisterhood and Project Manager of SULAM for Strategic Planning. She holds a strong commitment to her community and loves to help others, she is a Song of Miriam Award honoree and was on the Shaarie Torah Board previously. Professionally, Melissa is a Regional Account Manager and Recruiting Specialist at a Global Human Resources consulting company specializing in leader development, executive coaching, and outplacement services.
Rick Cohen, Men's Club Representative
Richard Cohen is a lifetime member of Shaarie Torah. His family have been members since 1908 and seen the synagogue go through many changes and updates over the years. He personally has been a full dues paying member since 1980 and has served on the board in various capacities since 1980. He is a past president and has served as a vice president for 5 different administrations. He was also a Men's Club president. Rick received the Harry R. Nemer Service Award in 1993. 
Molly Baum, Sisterhood Representative
Trevor is an avid traveler and a wandering Jew who finally made his way to Portland. He grew up in/near Louisville, KY and moved across the country while an undergrad as a Purdue chemical engineering co-op student prior to graduating in 2010 and moving to Knoxville, TN. Trevor was actively involved in his shul during my 3 years in Knoxville,TN, 5 years in Houston, and 2 in Bloomington, IN while he finished his MBA at the IU Kelley School of Business in 2019. Having been active in at least a dozen shuls over the course of his travel and multiple relocations, he enjoys getting to see the similarities and differences across communities and what each of them uniquely offers. Trevor has found his home in Portland and look forward to staying here much longer than his previous stop-overs. Yes, he is also a travel/airline nerd scouring the PDX and other airport monitors for all the flights and times whenever he travels.
Trevor moved to Portland in the summer of 2019 and have been working in Intel finance ever since. He was drawn to the warm CST community and am proud to call CST his "home" shul. In his free time Trevor enjoys hiking, traveling, playing tennis and table tennis, and serving as a BBYO advisor for Portland's oldest chapter– Sol Stern AZA #65.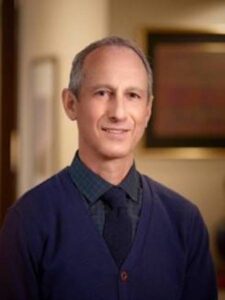 Mitch is a Partner in the law firm Landye Bennett Blumstein LLP, and specializes in tax and estate planning. He served as President of Shaarie Torah during the 1990s, and was on the Board for several years. Mitch became a Bar Mitzvah at Shaarie Torah, and is a fourth generation member of the congregation. He and his wife Lynne have two adult children Kelli and Bennett, who grew up in the Shaarie Torah community.
Eva Celnik has been a member of CST for the past seven years. She works as an epidemiologist, specializing in infectious disease when she is not taking care of her two children and husband. Her older daughter is currently in the Religious school program and her son will be joining the program next year. In her spare time, Eva loves going to the beach with her family, spending time with friends and family, cooking, and enjoying Portland.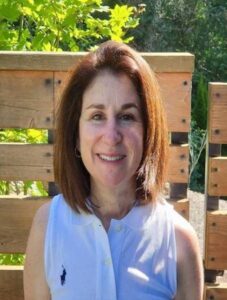 Allison Fowler has been a member of CST for about 7 years. She had her bat mitzvah at CST in 2019 and her daughter will have hers in 2021. During Covid, Allison has learned to play chess, learned the Torah tropes and some new jump rope tricks. Allison lives in southwest Portland with her husband, daughter and too many dogs.
Sue Hickey and Sheldon Klapper have been married for 40 years. They have been active members of Shaarie Torah for over 2 times chai years. They have been, each or both, members of CST and other Jewish community agency boards, and active members of numerous CST committees, particularly fundraising and renovation committees. They support and sponsor many local and international Jewish agencies and causes and events and are dedicated supporters of Israel.
Sue spends most days gardening, painting, bird feeding and watching, and novel reading, and both spend time daily walking in different Portland neighborhoods or hiking out in the Central Oregon mountains and High Chaparral environment around their cabin. Shelly spends most days reading current events, getting upset, building wood furniture and sculptures, and restoring and appreciating old cars and trucks.
Career wise, Sue was one of the first to get a graduate degree in the then new field of environmental engineering and worked at the White House, the nascent EPA, and then the nascent US Department of Energy, where she helped develop the automotive fuel economy program still in place today. She moved to Portland and worked to commercialize solar, wind, energy conservation and other alternative energy sources. She eventually became Chief Operating Officer of BPA, (Bonneville Power), one of the largest and most critical wholesale electricity distribution utilities in the country. She served as chair of the national Vestibular Disorders Association and wrote the seminal book – Finding Balance – on the subject of vestibular disorders and their impact on individuals with that condition.
Daron is President of CCS Direct. In addition to his business expertise, leading the online and store sales of skateboards, longboards, and skate-inspired shoes and clothing, Daron brings an MBA and JD to his new role on the Board. Daron and his wife Melissa have three children (Evan, Gabriel and Zachary), who attend PJA. The Horwitz family have been members of Congregation Shaarie Torah for three years.
Sue Hickey and Sheldon Klapper have been married for 40 years. They have been active members of Shaarie Torah for over 2 times chai years. They have been, each or both, members of CST and other Jewish community agency boards, and active members of numerous CST committees, particularly fundraising and renovation committees. They support and sponsor many local and international Jewish agencies and causes and events and are dedicated supporters of Israel.
Shelly had a career that included co-founding a rural affordable housing coop in New England that was a pre-cursor to Habitat for Humanity, and then conducting research on housing and on solar energy at MIT during and after his graduate studies at their School of Architecture & Planning. He moved to Portland to take a job helping to commercialize solar, wind and other alternative energies, which is where Sue and Shelly met, helped develop the architectural program and plans for the Portland Convention Center, and then as a general manager at the Port of Portland, developed the Oregon Market at PDX, the first effort to bring in specialty retail and dining brands, local and national, to create a more customer friendly, and financially successful, airport environment. This approach has become the norm in the industry. After leaving PDX, he founded The Center for Airport Management, a company that facilitated development of this type of shopping center environments at 48 airports, including, among others, the vast majority of the major airports in the US, as well as a half dozen Latin, Asian and European airports.
The Shaarie Torah Board meets every 3rd Monday, 6:30 pm on zoom. Members are welcome to join. For information on how to join a Board Meeting and the zoom link, please contact our executive director, Jemi Kostiner Mansfield, executivedirector@shaarietorah.org.
Our office is currently closed to visitors. Questions? Give us a call or send us an email. We currently have limited office hours but leave us a message and we'll get back to you as soon as we can.
Subscribe to our Email newsletter