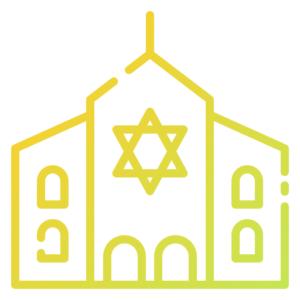 A community with you in mind
Coming together since 1905.
Our Shaarie Torah community has been growing, learning, evolving for over 100+ years in Portland, Oregon. We strive to create harmony and connectedness with our programming, events, and classes, bringing together people of different generations, backgrounds and interests to celebrate, share, discuss, study, and pray. As a place where Judaism thrives and is central to our hearts, we are here to bring deeper connection with our ancient traditions while translating our teachings to today. 
The Torah inspires us to act in the world – in our synagogue community, in our local community and beyond – informed by its values of responsibility, compassion and justice.
We're here to support you in whatever place you are in.
We know there are many reasons why our members join and we are here for all of them. If you feel at home at Shaarie Torah, online or in person, we know you belong here. It takes just a few steps to become a member. 
"Learning with Rabbi Rose and friends regularly on zoom has really made this online time more engaging and fun. The discussions always leave me with much to think about."
"I have received regular check-in calls from other members during quarantine and it has helped so much during this time on my own. I am so grateful to my community at Shaarie Torah."
"We were all blown away by the warmth and vibrancy of the community."
Our close-knit kehillah cares for one another, reaches out with loving hands ready to help and maintains a quiet strength that has sustained us for nearly 120 years. We welcome you to join us and explore that many facets of CST
We are grateful that you are considering Congregation Shaarie Torah. If there is some way that we can be a part of your deliberation, or can aid you in finding a place here, please don't hesitate to contact us at the office.
Become a Member of the Shaarie Torah Community Today.
Office hours: 10am – 2pm on Mon, Wed, & Thurs by appointment only at this time.
You can always call us and leave a message or send general questions to info@shaarietorah.org
Subscribe to our Email newsletter