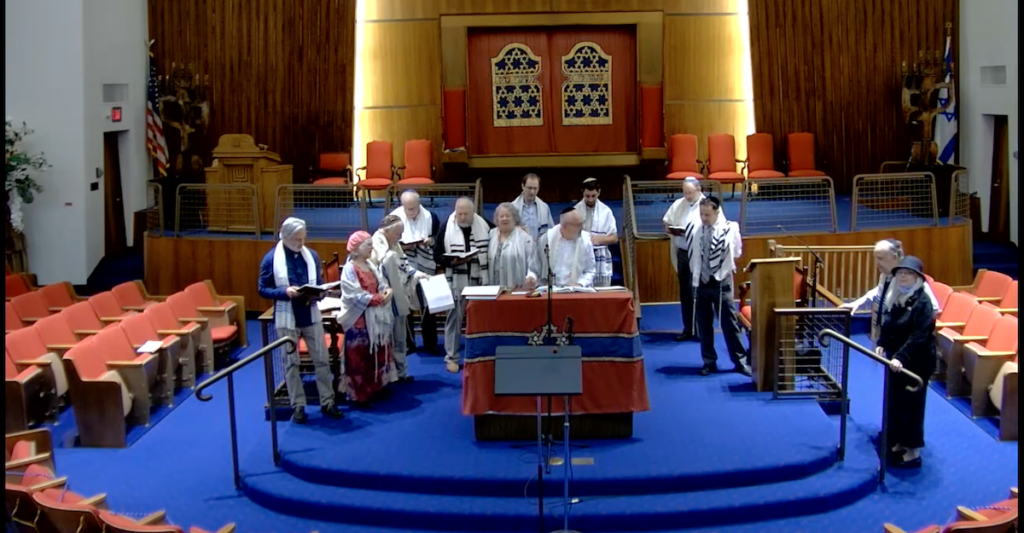 Morning Minyan: Sunday, Monday, Thursdays @ 8:00 am | Sunday Minyan is hybrid: in person and virtual. Monday and Thursdays are zoom only. Click here to join our Zoom. Meeting ID: 892 3105 7612 | Password: 940346
Saturday Morning & Holiday Services: Saturdays @ 9:15 am
Stream Shabbat & Holiday services through our streaming channel, here.  Led by Rabbi Gary Ezra Oren and special guests! Registration is not required for in person attendance. You can also watch services live through our streaming player here. Catch previous services/events, just by coming back to that page to find previous broadcasts. We go live with services every Saturday and holidays on our facebook page as well.
Shabbat Fusion: 1st Fridays of the month, 6:30 pm, at Shaarie Torah. BYO dinner if you want to stay and schmooze. Breathe. Reflect. Meditate. Sing. Feel. Experience prayer with Rabbi Gary Oren and Beth Hamon. Shabbat Fusion will unlock the mysterious gates of prayers and allow you to experience Jewish prayer in a way you never thought possible. We provide soup and bread; you bring pareve/dairy sides or desserts to share. Bring potluck sides and dessert (dairy or vegan) *please let us know what you plan to bring below*. No charge, RSVP required. Check our calendar for the RSVP link to each Shabbat Fusion.
* 8 Sunday gatherings *
* Kids ages 0-5 *
* Families together *
* 8 Shabbat mornings *
* All ages welcome *
* Families together *
* 8 Holiday experiences *
* All ages welcome *
* Families together *
* 24 Sunday sessions *
* Kids in grades 1-8 *
* Families join at times *
Check out the full listing of current Adult Ed classes happening this year, here. 
Torah Study
in our upstairs learning space
Fridays at 11:30am (weekly) in person and zoom
Rabbi Oren and others come together to study together on Fridays both in person and on zoom. We ask that everyone who joins in person is vaccinated and boosted if eligible.
Hope to see you in person, or join with zoom link here.
Yarn Crafting with Amber
Calling all knitters, crocheters, crafters and curious ones alike! Grab your needles, hooks, whatever you are working on, or start something new. If you have questions, please contact Amber Kurson at
amberkurson@gmail.com
.
Archived Classes & Services
Check out our youtube channel for all archived virtual classes and events. And don't forget to subscribe to stay up to date on all of our virtual classes and events. 
Supporting each other, supporting our community.
Rabbi Oren is available for pastoral care and conversations: rabbioren@shaarietorah.org or contact Jemi, our Executive Director at, executivedirector@shaarietorah.org.
We deeply appreciate any support you can give in this time. To donate to our operations, please click here. To make a tribute donation, in honor or in memory of a loved one, click here. As always we are grateful you are part of our community and are working to do our best to serve you in this new and unknown time. We hope we will be together again soon.
Office hours: 10am – 2pm on Mon, Wed, & Thurs and by appointment only at this time.
You can always call us and leave a message or send general questions to info@shaarietorah.org
Subscribe to our Email newsletter